NEW CHARACTERS JACK, AMY AND ALEKS ENTER THE AMONG US UNIVERSE. CHLOE AND DAVIS ARRIVE IN THE UNDERGROUND LEGION. – It's Amy's first day as an assistant to a famed TV reporter at a local Boston TV news station, and she is immediately thrown in with Jack (Alex O'Loughlin) to help cover a mysterious double homicide which could "out" people with abilities. Meanwhile, Andrea's missing, and the 24 hour clock is closing in. Aleks, the leader of the Underground Legion, turns to Chloe and Davis for help. They go under the city streets of Boston to a gothic mansion where members of an underground movement work to protect people with abilities. Amy stumbles upon a dark secret, which might just hold the key to saving Andrea.
Here it is:
Are there aliens among us?

I'll be putting up the official episode description in a minute. :)


Episode two is titled:
(
Watch!
Collapse
)
And of course, those of you who catch the in jokes, do tell. There are at least four.
Worth...Outtakes! XD So tell Us.
What did you think of the episode? Let's talk.
Will Davis have to make that choice? Who has Andrea?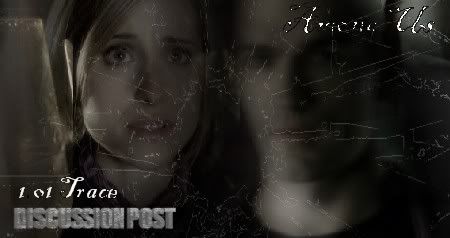 For Reference:
Acts One and Two
Acts Three and Four
Act Five
CHLOE (Allison Mack) AND DAVIS (Sam Witwer) ARE ATTACKED HUNDREDS OF MILES FROM SMALLVILLE. With the assistance of a friend from Chloe's past, they get drawn into a struggle that may destroy their cover and their perceptions of themselves forever.
At the Watchtower, the remaining heroes try to recover their vanishing teammates in the wake of the Blur's disappearance, ignorant of the far more powerful foe that is rising in their backyard.
Dr. Hamilton (Alessandro Juliani) digs into the mystery of the Destroyer's death and stumbles upon a scientific project of truly 'eternal' severity.
(
Watch it!
Collapse
)
Current Mood:

bouncy
Now who wants to play, Guess the Chlavis
Among Us
spoiler and make the writer(moi) write more?
There are four quotes.
Tell me who in Trace says what. And I will!
Sounds like we're in for a bumpy night.
#1: "Something tells me it wouldn't be the first, Mrs. DeMille."

#2: "I know I'm going to regret this."

#3: "I might even shoot him if you don't make up your mind."

#4: "Your classic Batman and Robin. Their spiky friend. The constant threat of milling humans getting turned into blood orange juice."

Which Among Us character is #1?
Which Among Us character is #2?
Which Among Us character is #3?
Which Among Us character is #4?
The winner ( all four right!-maybe three, if Sammy is feeling generous) gets their own blooper/outtake of a scene in the pilot, which will likely be Chlavisy.
You can pick which scene the outtake is from.
point0fn0return
did them. Suffice to say she is amazing.
They will blow you away.
And I'm not kidding. Don't forget to join us here, this Friday the 25th, for the premiere of Among Us, with Trace (the pilot). Airing LIVE!
I think we'll surprise you, because we
make
our destiny.
Of course, they are official. ;)
Current Mood:

dying of squee
The Official YouTube Channel is finally here!! -->
OfficialAmongUs
<--
With two promos!!! Watch!!! Subscribe!!!
The 2nd one is up... you can find the first one
HERE
. Enjoy!!
Among Us
needed someone to bring spoilers and answer questions from fans. So here it is, our very own
Onion Scoop
, brought you by
Sammy the Mink
a carismatic little mink who will change your way of seeing spoilers.
Sammy the Mink had an interview to take this job... here is the first spoiler...
it's vague! it's cryptic! the producers loved it...
(
SPOILER ALERT
Collapse
)
But he got better, he might not give GREAT spoilers
everytime
(hey! none of the people on this job do it!) but when he does spoilers will never be the same. Here it's the first official spoiler...
(
First Official SPOILER
Collapse
)
Enjoy! There's a hell of a ride waiting for us.
Don't be afraid to ask questions
, Sammy is here for you!!
Well other shows have Ausiello, Kristin or even TVGuide.